A real good conversation in M's Gun Pr0n Open Thread going on (as usual whenever gun pr0n pops up) reminded me of a clip I recently found from a movie called Collateral. Now, normally Hollyweird is the absolutely last place to go for anything realistic about firearms, but in this case this scene offers a shitload of "doing it right". Big disclaimer up front, I haven't seen the movie so I have no idea about the rest of the gun scenes in it and their realism. Also, it's Hollywood so the scene is obviously going to be choreographed and real pretty, not like in real life. However, having said that, there's a lot to learn about how to do it right. As Troy said in the thread, "Its a martial art to me and form needs to be rock solid." This clip shows exactly how defensive firearms use is exactly that, a martial art.
Here's the clip. The lesson beginneth at :58.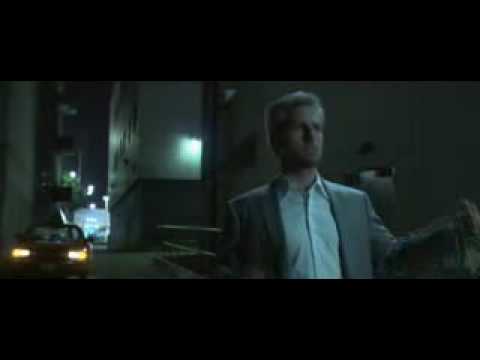 So let's look at the tactical situation. Good guy (Let's call him "George" just for GP) is confronted by two assailants, one definitely armed, the second one has his hand inside his waistband indicating he is armed, who are aggressively approaching him in a low light environment. Pretty realistic scenario statistically speaking.
The use of force triad, Ability, Opportunity, and Intent, has been met in spades.
Bad guy #1 (Let's call him "Schmuckatelli", or Schmuck for short) is the dominant of the two. Bad guy #2 (How about we call him "Lenny") is the follower.
Schmuck aggressively approaches George with his gun extended out gangsta style and invades George's "activity zone". (Activity zone is the area immediately in front of you, about 1 foot, that you dominate. Anything outside this zone is no man's land that can be dominated by your adversary just as easily as by you, as we see in this clip). Schmuck, in his zeal to dominate George through intimidation, offers his gun to George by sticking it in his face, outside of Schmuck's activity zone. Bad guys rely on fear and intimidation to paralyze their victim into inaction so that they can get what they want. George, on the surface, is compliant, raising his hands in submission while his face shows fear. At this point Schmuck thinks he is in control of the OODA loop, if he even comprehends the concept on an intellectual level, which he probably doesn't. This is where the art of the gunfight comes into play. George, despite his appearance, has committed to a course of action and is already implementing it. This is not done on the spur of the moment, but is achieved through training and visualization long before the encounter.
As Schmuck and Lenny approach, George raises his hands in submission; but watch his hands closely. His left goes up farther and faster than his right. This does two things. One it draws Schmuck's eyes to George's left hand as opposed to his right which stays closer to George's weapon. Secondly it positions his hand in a dominant position for George's next move, which Schmuck has very thoughtfully offered to George by putting his pistol in George's face. Also, George's stance, while appearing to be neutral or natural, is actually a balance fighting stance. His feet are under his shoulders, support side slightly bladed towards the threat while overall he is squared up on him. His weight is evenly distributed in a flexible defensive footing which appears to be anything but a fighting stance. This is called the "interview stance" and is the foundation which the fighting stance is built on. The only thing that changes is the hand position. Either the hands are neutral at the waist, or up in front in fighting position, empty or with a gun.
George's move is immediate and decisive, no hesitation, no equivocation. His left hand strikes Schmuck's gun hand from the outside, slamming it to the right and away from George. Even if Schmuck can react fast enough to pull the trigger, a practical impossibility due to cognitive recognition and reaction times, the shot will not hit George. Simultaneously, George's right hand is drawing his own weapon which is carried strong side at the waist, concealed by an unbuttoned jacket, allowing quick access and presentation. In a fraction of a second George has dominated the OODA loop.
George's left hand returns to a defensive position in front of him while his right hand presents the gun in a "combat tuck", close in to the body inside George's activity zone. Schmuck stands there in a split second of confusion while George fires two rapid hits. Lenny meanwhile begins to react (quicker than probably would have happened in real life) but his hand, although already on his own pistol, is buried under his shirt and he can't draw fast enough.
The threat from Schmuck is temporarily neutralized (Note, Schmuck goes down very fast, faster than would likely occur in real life. At this point he could still be a credible threat, but he is reacting to George's unexpected attack and backpedals, falling on his ass. If he still had his gun he could reengage once he realizes what just happened, even though he's been shot twice. It takes time for wound channels to affect the body. This is why getting off the X; moving as you shoot so you're no longer occupying the space that the threat is engaging, is so vital) and George pivots to his right while extending into a good two handed shooting grip. Note that George's right foot, the side facing the next threat, stays in place while his left foot moves. He pivots on the ball of his foot (you can't see the footwork but his upper torso's movement is fluid) and squares up on Lenny. This is the proper way to engage. You maintain balance and move smoothly and rapidly.
While Lenny is fumbling with his pistol George puts two rounds center mass. As Lenny falls back (again probably a little faster than real life) George tracks him with his pistol and puts a third round into Lenny's CNS (Central Nervous System, a head shot. All three shots are what we call "Hammer".) Now, in the 20/20 hindsight of a post-shooting investigation, this third round may be problematic and hard to justify, but let's leave that issue aside and concentrate solely on the mechanics and tactics of the shooting here.
At this point let me point out two techniques I would have preferred to have seen here. First would be more of a lateral retreat as George moved to engage Lenny. This incorporates getting off the X which forces Lenny to reorient his self to a different direction, and opens up the distance between the two. Distance equals time to apply some of the marksmanship fundamentals of grip and stance. Second would be a drill called "Boardinghouse Rules". The rule, for those of y'all who remember boardinghouses, states that "No one gets seconds till everyone has been served". In other words each threat gets one hit to knock them back in their OODA loop, then they each get the final hit to neutralize them. In this particular scenario that would mean Schmuck gets one hit instead of the double tap, Lenny gets double tapped, then Schmuck gets his second. Now admittedly Boardinghouse Rules is geared for three or more threats and in this scene George has plenty of time to give seconds to Schmuck thanks to Lenny fumbling his draw, but if Lenny had already had his weapon presented he could have conceivably engaged George while he was hammering Schmuck. As this scene played out George did a very good job of rapidly neutralizing both threats though thanks to him evaluating each of the two and prioritizing which was more of an immediate threat and acting accordingly.
The average gunfight is over in 2.5 seconds. From the time George engages Schmuck by slapping his gun hand until the final shot into Lenny is 2.4 seconds. The final shot into Schmuck after George retrieves his briefcase is obviously over the top and would push this from a justified self defense use of force into homicide, but it's Hollywood and this scene was more than just a defensive shooting by a normal citizen.
Now, who does what wrong and where does Hollywood inject itself and remove reality? First off, George is the typical Hollywood "cool guy" who is unflappable under stress, only thing missing is the quippy one liner as he walks away. In reality even professional gunfighters who dedicate themselves completely to the art of the gun don't move this smoothly. That's choreography to look good on camera; but it is possible to train to this level of proficiency as far as pure mechanics go. The draw is smooth and decisive, contiguous with the actions of the defending support hand. The transition between threats is realistic, but the bad guys' immediate reaction to being hit is faster than can be expected in real life. It doesn't matter what caliber or bullet type they are hit with, people generally don't succumb that fast. Hence is born the myth of "stopping power". Rapid immediate incapacitation from CM hits is very rare. It looks pretty on camera, but real life shootings are not pretty. Like my UoF instructor said "It's like making sausage, even when done right it's not pretty to watch."
As to who does what wrong, Schmuck and Lenny do practically everything wrong. Schmuck gets too close to George and shoves his gun in his face, giving him the opportunity to react and kill him. He doesn't watch his hands, instead staring in his face to intimidate George. He thinks that he is in control because he has the gun, and that George will not defend himself because that's what all of his other victims have done. Lenny also underestimates George and doesn't even bother drawing his gun, which he is carrying buried under multiple layers of clothing, preventing him being able to rapidly present it.
George meanwhile is carrying his gun in a proper trade off of conceal-ability versus security versus accessibility. He has trained and became proficient with his firearm to the point of Unconscious Competence. He has visualized his response to various threats and decided on courses of action prior to the event. He has mastered the fundamentals and smoothed his form to perfection. He commits to a course of action and carries it out to completion without hesitation. This is the Zen of martial arts and is mental, not physical.
Now here's the beauty of this little lesson. The vast majority of the skills George demonstrates here can be mastered through dry fire practice without ever stepping foot in the range. Range time teaches marksmanship. Marksmen don't win gunfights, gunfighters do.
Thus endeth the lesson.