If this keeps up, then we may just end up having to insist that the DNC put on a show every last damn year for the rest of their hopefully short existence. Wait, make that four times a year.
And don't, don't ever fire Debbie Wasserkopf Schmutz as DNC chair! We double fucking Imperially dog dare you!
As LC Light29ID (and if somebody doesn't come up with a fittingly pompous title for him pretty damn soon as befits an Imperial Staffer, we'll utterly lose our proverbial shit!) already pointed out, there appears to have been some "discontent" among the DNC audience when it was suggested that maybe surgically scrubbing every last reference to G-d and the status of Jerusalem as Israel's capital out of the party platform wasn't all that helpful.
Enter Debbie Downs Syndrome Shmuck and her inability to tell the truth.
Nope, there was no dissent or booing on the floor and yes, there most definitely was a complete consensus when it came to adding G-d and Jerusalem back into the platform.
Judge for yourselves: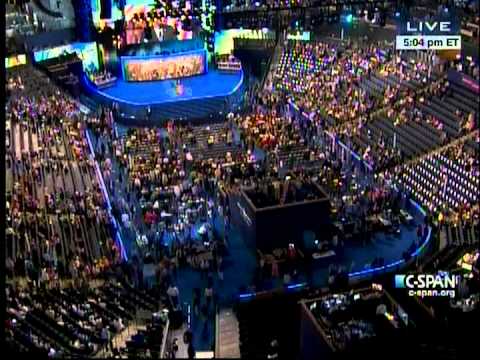 Does that sound like "no booing" and "definitely 2/3 majority in favor" to you?
Shut up racist!
And that's just how Debbie Dummkopf operates, as we've all learned. She has completely failed to grasp that whole modern concept of "recordings" and "YouTube" or, more likely, she's still struggling with the whole "reality" vs. "what goes one underneath Debbie's greasy perm" concept.
Another example? Of course. We just can't get enough of the gift that keeps on giving.
Consider when the Washington Times reported that Debbie had claimed that the Israeli Ambassador, Michael Oren, had totally confided in her that the Republican party is doing shit that is absolutely dangerous to Israel. Michael Oren, obviously more familiar with what he has and hasn't said, immediately told the daft cow to check into rehab because he never said such a thing. Which Debbie, still utterly oblivious of the existence of recording devices, claimed that she hadn't claimed in the first place and that the Washington Times was completely making shit up because conservatives lie all the time. Unlike Debbie, who allegedly doesn't talk in her sleep so she takes at least an 8 hour rest from lying every day.
OK. Roll the tape, Mr. Snerdley: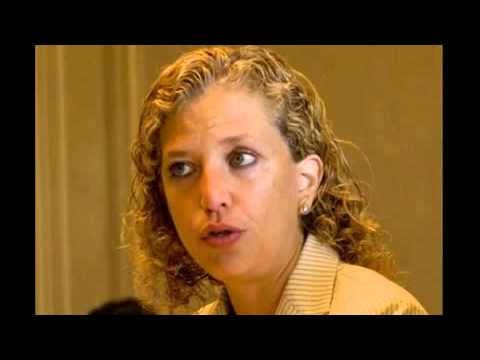 That's Debbie absolutely NOT saying what she just said, courtesy of that damn YouTube thing again.
She just can't help it. And now she's refusing to apologize for calling the Washington Times liars for accurately quoting her. Because it doesn't matter, in Debbie's World, what actually happened. All that matters is what she said happened.
Who are you going to believe? Your own lying eyes and ears or a baggy, wrinkled nutsack with a greasy Shirley Temple perm?
Tough choice, we know.
Please, Democrat National Socialist Party, don't ever fire that clueless cock receptacle. If you do, we'll have to do all the work destroying you ourselves again.
But, alas, all good things come to an end, at least as far as the DNC Abortion-Palooza in Charlotte goes. Soon the streets of Charlotte will clear again (and the city can get to work cleaning out the crap that the loser Democrat National Socialists dumped all over the place), Liberal Fascist Feminists protesting the objectification of Womyn by dressing themselves up as vaginas with legs (brilliant! If you have the IQ of Neisseria gonorrhoeae and are completely immune to irony) will no longer roam the streets and OWSers will once again have to find new locations for their rape tents.
One more day as King Putt and his entourage move from a 70,000 seat stadium to a 20,000 seat janitor's closet to escape the horrifying scattered isolated thunderstorms and positively terrifyingly torrential 20% risk of a late summer Southern drizzle (unlike those pussy Rethugnicans who cut their convention short a day over a mere hurricane, hahaha) and it's all over for The Dumbest Show on Earth™.
But at least we're fairly sure that North Carolina, having witnessed the Democrat National Socialist Party in all of their stupid splendor, is now red enough to make Texas look positively Stalinist by comparison.
Thatisall.